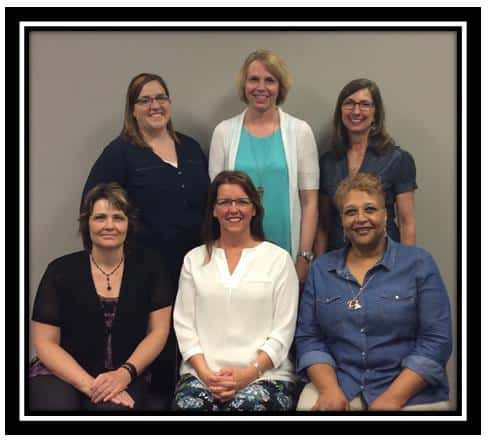 Back Row: Stephanie Herling, Becky Groennert, Sheri Kraus
Front Row: Terri Dietz, Denise Henry, Dinnia Cooper
Request Services
Database Form

By completing this form your contact information will be entered into our database. Email announcements and training information will be distributed to the users in the database monthly.

Click here to fill out a Database Form-Educators/Professionals.
Click here to fill out a Database Form-Families.

Resource Lending Library

Our lending library has approximately 1,500 items including resources on curriculum, assessment tools, and specific disabilities.  Material can be delivered and returned free on charge through your local library via our courier delivery system.Click here to access STAR NET IV resource library online
Click here to fill out a Library Borrower Request

Technical Assistance and On-Site Consultation

STAR NET staff are available to provide on-site or telephone assistance and support on early childhood issues and concerns. Call us to share ideas, investigate resources, and brainstorm solutions. We welcome the opportunity to visit classrooms and network with early childhood professionals and families.

Click here to fill out a Technical Assistance Form.

Family Assistance

STAR NET offers family fellowships, conferences, workshops and webinars promoting family-centered perspectives. A Family Resource Specialist, who is the parent of a child with special needs, is available to provide training, information and support to families and providers.

Professional Development

Through needs assessments and requests, regional workshops and webinars are scheduled to address current topics. Training opportunities are available at no cost to all who work with young children.

Collaboration within the Early Childhood Community

Workshops and webinars are planned in collaboration with local and statewide agencies. STAR NET provides training that promotes best practices in early childhood. If you would like to plan a training event with us, please contact one of our Resource Specialists.

Focus Group
Our Focus Group is made up of parents and professionals representing the southernmost 38 counties we serve. The voluntary Focus Group provides information, insight, and feedback regarding the activities of

STAR NET

 Region IV.